2019 Player of the Year (POY) Standings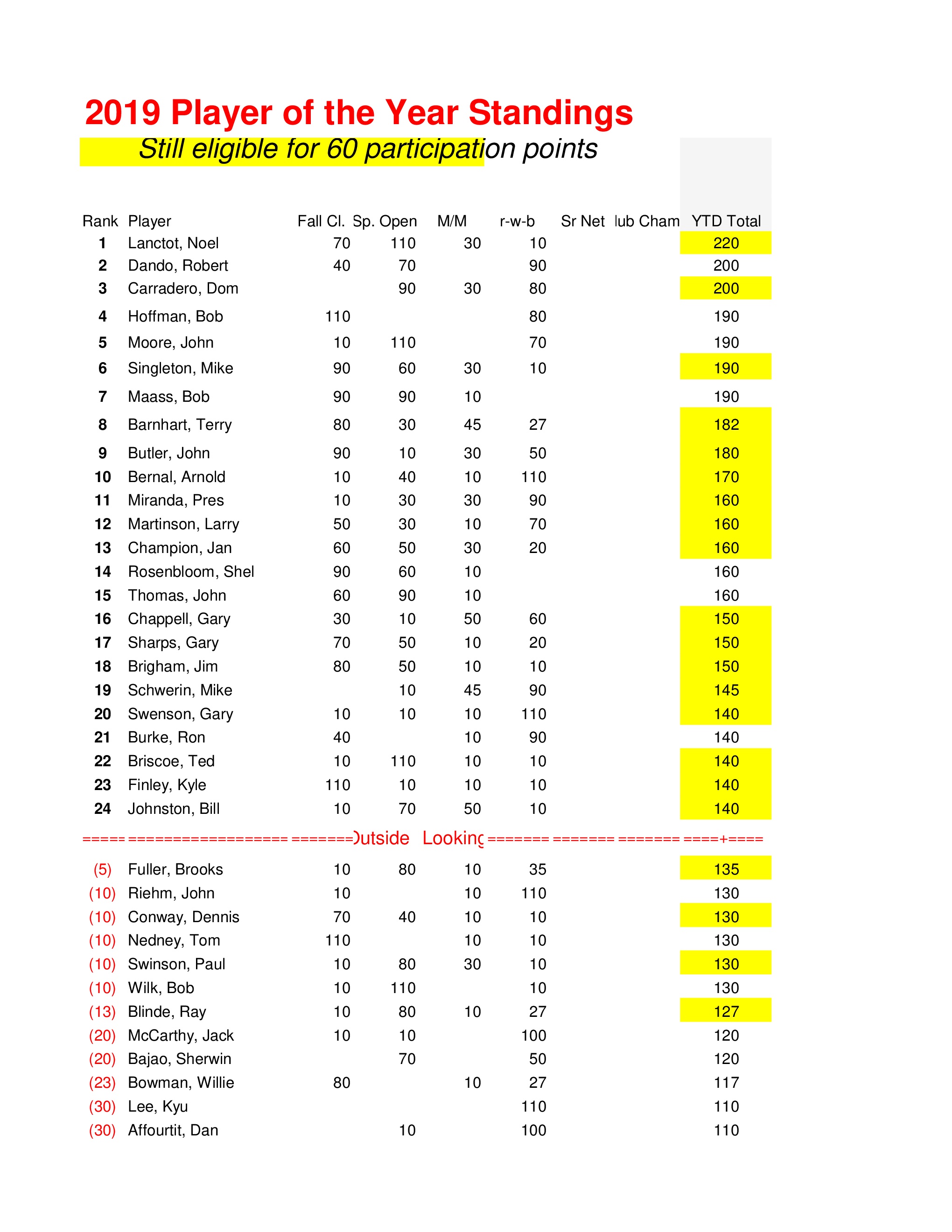 2019 Player of the Year (POY) Program
The last few years we have expanded the Player of the Year to team events and incorporated a playoff to determine the winner. This year the Men's Club Player of the Year (POY) will earn his title by gathering the most performance points from the 6 events listed below. No playoff will be incorporated for the award. Competition is based on individual net play in 5 events and team play in one event, with the team award points split between the two players.
The 2019 POY tournaments are:
Fall Classic Oct 13, 2018 Individual stroke play
Spring Open April 13 Individual stroke play
Member-Member May 17-19 2-man team match play
Red-White-Blue June 29 Individual stroke play
Senior Net August 7 Individual stroke play
Club Championship Sept 7-22 Individual match play
Points will be awarded in each flight as shown below:
| | | | | | | | |
| --- | --- | --- | --- | --- | --- | --- | --- |
| 1st | 2nd | 3rd | 4th | 5th | 6th | 7th | 8th |
| 100 | 80 | 70 | 60 | 50 | 40 | 30 | 20 |
In the case of ties, including 1st place, the points for the number of places affected will be added then divided by number of players and rounded up. Match play events will limit the number of places awarded to number of matches played. An additional 10 participation points will be awarded to all who participate in each tournament, and 60 additional points will be awarded to those who participate in all five 2019 events.
The Player of the Year Award (POY) will be made during the awards portion of the annual meeting in October.
…..And new this year!!!
The top twenty two "point achievers" who are available will be invited to participate in the Villages Ryder Cup Tournament on October 26th and 27th led by two Pro Shop Captains.