?
The Villages Men's Golf Club has over 400 golf enthusiasts who love the game and enjoy socializing and competing with others that share their common passion.
Through this site you will find information about membership, breaking news, upcoming tournaments, latest results, new members and Home & Home events.
2021 Men's Club Championship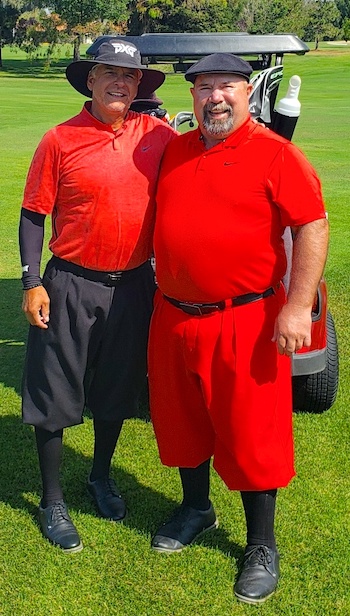 Congratulations to this year's Men's Club Champion Ted Escobar! Ted played well and captured the title in a 36-hole match against two-time former club champion Jim Holt. They played the #5 tees at scratch. Both men played valiantly throughout all of their matches. The turning point in the 36-hole match was a chip-in birdie 3 by Ted on hole #10 (the 28th hole of the match) that put him five up with eight holes to play. That proved insurmountable and Ted ended up winning the match 6 and 5.
Kudos to all of the flight winners as well:
Flight Three: Jan Champion
Flight Four: Terry Barnhart
2021 Evergreen Invitational
This is it! The official call for entrants to the 51st Evergreen Invitational Tournament, September 23-25, 2021. Three days of golf, a variety of skill games, great prizes and amazing food. It is not to be missed. See event details and get your entry form HERE or at the Pro Shop.
OUR NEXT TOURNAMENT:
Sr. Net Championship
Click HERE to see tournament details.
New Members for 2021
July
Howard Roberts, 3325 Lake Albano Cl
Art Gonzalez, 5200 Cribari Hills
June
Steve Holland, 5481 Cribari Green
Jay Pinson, 7745 Kilmarnok
May
Michael Votta, 5149 Cribari Pl
Steve Simler, 8745 McCarty Ranch Dr
Dave Gutierrez, 3359 Bollsena Ct
April
Dave Manson, 6149 Montgomery Pl
Chuck Park, 6356 Whaley Dr
Taegyu Kim, 8020 Pinot Noir Ct
Rick Kuhle, 7355 Via Laguna
Chuck Flanigan, 8693 Lomas Azules Ct
Rusty Weekes, 3301 Lake Lesina
January
Rajendra Naidoo, 6197 Gerdts Dr