?
The Villages Men's Golf Club has over 400 golf enthusiasts who love the game and enjoy socializing and competing with others that share their common passion.
Through this site you will find information about membership, breaking news, upcoming tournaments, latest results, new members and Home & Home events.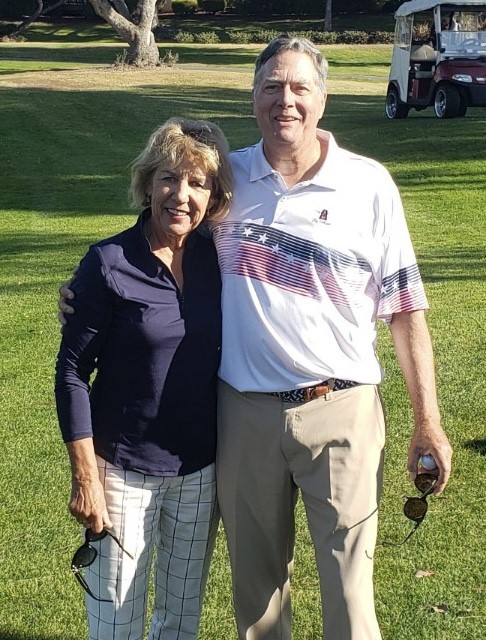 2020 Club Championship Results
Congratulations to our new Club Champion, Mike Tuft, pictured above with his lovely caddie (wife) Gail, who won with a 7 and 6 victory in the hard fought, two-day battle. Scratch golf played from the #5 Tees brought out the best in both Mike and his opponent, Mark Garcia.

In addition, Congratulations to all of our flight winners below:
1st Flight: Michael Guidry
2nd Flight: Jeff Buckingham
3rd Flight: Jim Hansell
4th Flight: Gary Sharps
5th Flight: Clayton Krinard
Thank you to all the participants for some exciting and competitive matches!
Upoming Men's Golf Club Events
To Be Determined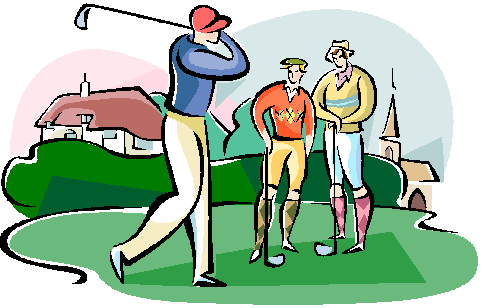 ​




Will update when possible


Click HERE for event details.
To see a listing of ALL Men's Golf Club tournaments for 2020
,
click

HERE
Click HERE to see detailed Tournament Results!!!
2020 Home & Home Tournaments - CANCELLED
For the full schedule of 2020 events, click HERE or check the posting room.
If you have questions about the 2019 Home and Home Program:
Welcome 2020 New Members
Maybe one is living in your neighborhood or right next door. Give them a call if you have a slot in your foursome or are looking for a playing partner. Click HERE to see a list of all 2019, 2018, 2017, 2016, and 2015 new members.
December 2020
Pete Manibo, 8700 Lomas Azules Pl.
November 2020
Ray Brown, 8305 Chianti Court
Alan Chase, 7810 Prestwick Circle
October 2020
Marvin Kelley, 7555 Morevern Circle
Larry Soto, 8500 Grenache Court
September 2020
Dave Masters, 6084 Montgomery Court
Vincent Mays, 8500 Grenache Court
August 2020
John Gruendler, 3402 Lake Garda Drive
Bob Costa, 9054 Village View Loop
July 2020
Greg Sargeant, 7519 Deveron Court
Steve Tomei, 8818 Wine Valley Circle
Reggie Smith, 3366 Bolsena Court
June 2020
Hyeong Kim, 8125 Cabernet Court
May 2020
Larry Cohn, 7655 Falkirk
John Olson, 8452 Traminer Court
March 2020
David Storvis, 7057 Via Belmonte
Bob McAdams, 7220 VIa Sendero
Michael Guidry, 6293 Blauer Lane
February 2020
Marlo Beltrano, 7609 Halladale Court
Jim Hansell, 2023 Carignan Way
John Ochsner, 6359 Whaley Drive
January 2020
Dave Steadman, 5030 Cribari Vale
Andy Altman, 7119 Via Portada
Tomas Mendoza, 5537 Cribari Circle
Scott Stephens, 7806 Prestwick Circle
Randy Shaw, 6262 Blauer Lane

Congratulations to Hole-In-One and Eagle Shooters for 2020!!
Hole-In-One
Tom Nedney, Hole #6 on September 28th
Scott Stephens, Hole #4 on September 27th
Arnold Bernal, Hole #6 on August 22nd
David Bacigalupi, Hole #11 on June 6th
Jim Valenti, Hole #11 on March 4th
Eagle Shooters
Bob Dolci, Hole #17 on December 5th
Shel Schumaker, Hole #8 on December 4th
Nick Corsello, Hole #15 on November 27th
Rick Tobler, Hole #8 on November 15th
Lisi Bettencourt, Hole #2 on November 11th
Ted Escobar, Hole #16 on November 11th
CK Kim, Hole #9 on October 31st
Jim Holt, Hole #18 on October 4th
John Butler, Hole #10 on September 27th
Michael Schwerin, Hole #14 on September 13th
Brad Baldinger, Hole #2 on August 12th
David Bacigalupi, Hole #2 on August 7th
Joe Spada, Hole #12 on July 10th
Bob Dando, Hole #2 on July 5th
Mike Tuft, Hole #16 on June 26th
Tom Papas, Hole #16 on June 26th
Arnold Bernal, Hole #7 on June 8th
Mickey Adelman, Hole #2 on March 13th
Bob Wilk, Hole #2 on March 9th
Bob Wilk, Hole #14 on March 2nd
CK Kim, Hole #8 on February 15th
Quincy Virgilio, Hole #1 on February 13th
Ted Escobar, Hole #9 on February 12th
Clay Wahlgren, Hole #15 on January 27th
Paul Swinson, Hole #9 on January 22nd
Quincy Virgilio, Hole #9 on January 8th
Membership and participation in monthly tournaments is limited to
The Villages Golf and Country Club permanent residents only.
A few yearly events (Evergreen Invitational, Holiday Mixers, Weekly
Organized Games) may include invited guests.