?
The Villages Men's Golf Club has over 400 golf enthusiasts who love the game and enjoy socializing and competing with others that share their common passion.
Through this site you will find information about membership, breaking news, upcoming tournaments, latest results, new members and Home & Home events.
2022 Men's Club 18 Hole Club Championship Match Play Tournament has come to a spectacular conclusion!
Congratulations to Ted Escobar for effectively defending his title and for the being the  Villages Men's 18 Hole Golf Club Champion for 2022!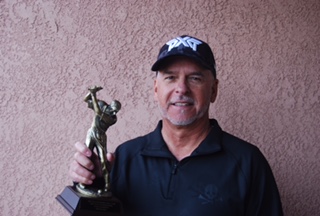 Here are all of the winners of their respective Championship rounds:
Championship Round: Ted Escobar $100.00 4/2 over Scott Stevens $75.00
Flight #1: Larry Angel $100.00 6/4 over Jim Valenti $75.00
Flight #2: Len Townsend $100.00 2up over Quincy Virgilio $75.00
Flight #3: John Seeger $100.00 5/4 over Gene Mune $75.00
Flight #4: Jessie Ramirez $100.00 3/2 over Terry Barnhart $75.00
Congratulations to all of the Champions and all participants that competed and to help make this annual event such a success!
Special thanks as always, to Tom Morse, Scott Steele and the Pro Shop for setting this up and making this event what is!
Elections: Wanted--A Few Good Men!!
I have appointed a Nominating/ Election Committee for the upcoming elections to the Men's Golf Club Executive Committee, to start serving in 2023. I have "volunteered" former General Chairmen Gary Chappell, Rick Jiloty and George Olson to recruit candidates to fill the 3 positions for next year. If you are interested in being a candidate, contact any of the Nominating Committee.
Besides being nominated by the Nominating Committee, any member may become a candidate for election by written petition endorsed by at least 10% of the Membership. This petition must be submitted to the General Chairman no later than 5p.m. Friday, September 16, 2022.
Please refer to the 2022 Men's Golf Club Handbook (pages 21 &22) for more details, and contact any of the Nominating Committee with any questions.
David "Baci" Bacigalupi, General Chairman
OUR NEXT TOURNAMENT:

Fall Classic
Click HERE for Tournament details.
New Members for 2022
August
- Jae Kim
- Dae Jong Kim
July
- Len Silverfine
- Don Chaisson
- Roy Pennington
June
- Allen Rubin
- Chong (Albert) Chan
May
- Vincent Alvarez
April
- Bill Morefield
- Brett Foreman
- Thomas Gibbons
- George Figone
- Joseph Tse
- Raymond Chan
- Larry Lo
- Arthur Yu
February
- Ken Kupperberg
January
- Robert Antee