Welcome to The Villages Men's Golf Club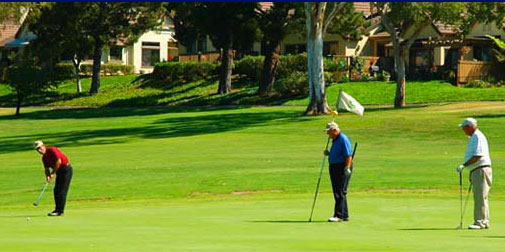 The Villages Men's Golf Club has over 500 golf enthusiasts who love the game, and who enjoy socializing and competing with others that share their common passion.

Through this site you will find information about membership; breaking news; upcoming Men's Golf Club tournaments and latest results; new members and Home & Home events.
Not yet a member? Go to the Membership page to find out about joining the club.
Need Services or Products?
Villages Golf Committee (VGC)
CLICK

HERE

FIRST!


for a list of 2017 Evergreen Invitational Sponsors

Questions or Comments?
Go to

"VGC"

Link Below, or
email: golfinfo.vgc@gmail.com
Click on one of the boxes below for a direct link to the web page for these areas:
Mark Your Calendars
UPCOMING MEN'S GOLF CLUB EVENTS
December 9th
Holiday Tournament
Tee Times
Two man teams; Stableford, 2BB (all count).
All flights from #3 tees.
To see a listing of ALL Men's Golf Club tournaments for 2017, click HERE
2017 New Members
Welcome New Members
Maybe one is living in your neighborhood or right next door. Give them a call if you have a slot in your foursome or are looking for a playing partner. Click HERE to see a list of all 2016, 2015 and 2014 new members.
July 2017
Walter Fox, 7837 Prestwick Circle
Richard James, 7912 Caladonia Drive
Donald Armstrong, 6226 Gerdt's Drive

June 2017
Larry Chambers, 6003 Montgomery Corner
Michael Sunzeri, 6130 Montgomery Court

May 2017
Jonathan Cohen, 7310 via Piedra
Jerry Ryckewaert, 7397 via Canteras

April 2017
Larry Gonzales, 7667 Helmsdale Drive
Michael Actman, 8460 Traminer Ct.

Congratulations to HIO and Eagle Shooters!!
Hole-In-One
Congratulations to Dom Carradero!!
Shot a HIO on #6 on July 29

June & July EAGLE Shooters - Congratulations!
Leo Ruth: Hole #3 on 5/5
Dom Carradero: Hole #6 on 7/29
Rob Davis: Hole #9 on 7/26
NOTE:
For every Hole-In-One (to collect up to $400 insurance) and Eagle (to get name recognition), the golfer must notify the Pro Shop and submit a scorecard signed with two witness signatures of other foursome/threesome players.
2016 Annual Meeting & Awards Luncheon
The Men's Golf Club held their annual Fall Classic Tournament followed by the Annual Awards Meeting and Luncheon on October 15, 2016. Trophies were presented to the golfers that won the 2016 trophy-designated tournaments. Two special Distinguished Service awards were also presented to Dutch Johnson and John Dix.
If you run into one of them, give them a hearty handshake and congratulate them for their trophy win or award.
First, Congratulations!! to the golfers that won key tournaments and trophies during the 2016 golf season:
Club Championships
Five Flights - 68 golfers participated
Flight 1:
Paul Nadeau

Flight 2:
Ron Robinson

Flight 3:
Mike Singleton

Flight 4:
Ki Lee

Club Champion




Brad Baldinger
Player of the Year
126 Players Scored Points in Five POTY Tournaments
1. Bob Maas (290 pts)

2. Geoff Gault (240 pts.)
3. Mike O'Grady (220 pts.)
4. Gary Chappell (185 pts.)
5. Terry Barnhardt (175 pts.)
6. Jim Valenti (167 pts.)

Player of the Year: Bob Maass
Member/Member Championship
Flight 2:
Ted Briscoe & Bob Maass

Flight 3:
Jan Champion &
Jim Neill

Flight 1 & Overall Champions
Dave Neeham (left) and
Jim Holt (right)
Evergreen Invitational
Flight One:
Tom Morse &
Clovis Mirassou

Flight Three:
Jeff Buckingham &
Roger Brown

Evergreen Invitational Champions
& Flight 2 Winners:

Ted Briscoe (left) &
Tom Blake (right)
Other Trophy Winners
Senior Net Championships
Flight 1: Bill Drabik
Flight 2: Geoff Gault
Flight 3: Bob Maass
Flight 4: Michael Kelly
Flight 5: Rick Rickseker
Flight 6: Jim Danielski
Distinished Service Awards
A highlight of the meeting was the presentation of two special Distinguished Service awards by chairman Gary Chappell.
Dutch Johnson
Dutch has been a tireless contributor to the Men's Golf Club and Villages golf for the past 20+ years. He was MGC General Chairman in 2008, very active in many Evergreen Invitationals. Beyond these contributions, Dutch has been a Chairman and key member of the Villages Golf Committee (VGC) for many years and was a major contributor and "watchdog" over the VGCC budgeting process for the golfing community.

John Dix
John Dix has been handicap chairman of the Men's Golf Club and also was the go-to person for computer support for 30 or so years. He was our liaison to the NCGA and helped several other Men's Club members get involved with them. John developed the comprehensive Villages Golf Play Report and spent many hours weekly keeping it updated and sending out monthly Play Reports for 20 some years.
2017 Executive Committee Members
| | |
| --- | --- |
| General Chairman | Hal Hallock |
| Vice Chairman & Publicity Chairman | David Bacigalupi |
| Secretary & VGC Representative | Gary Chappell |
| Treasurer & HIO Chairman | Bob Wilk |
| Tournament Co-Chairman | Rob Davis |
| Tournament Co-Chairman | Jim Danielski |
| Evergreen Chairman | Jeff Buckingham |
| Home & Home Chairman | Jack McCarthy |
| Membership, Handicap, NCGA, Rules Chairman | David Gonzales |
The names and contact information for all Executive Committee members are listed in the Posting Room or you can click on the "Executive Committee" link in the links matrix at the beginning of this Home Page. The ExecComm members welcome your questions and input, so contact them if you have questions, ideas or want to volunteer.
2017 Men's Golf Club Tournaments!
Mark Your Calendars
UPCOMING MEN'S GOLF CLUB EVENTS
December 9th
Holiday Tournament
Tee Times
Two man teams; Stableford, 2BB (all count).
All flights from #3 tees.
To see a listing of ALL Men's Golf Club tournaments for 2017, click HERE
For the full schedule of 2017 events, click HERE or check the posting room.
If you have questions about the 2017 Home and Home Program
Call Jack McCarthy at: 408-239-0626
If you have any corrections, comments or questions about this site, please send an email to: mgc18hole.website@gmail.com.

Our Latest News
New Web Site!Posted: September 27th 2016
Welcome to our new web site. We have a much cleaner design and it now works on tablets and smartphones. We hope you enjoy it!
See all our news - click
here